Network
Busan and Cannes sign MOU to enhance cooperation in the film industry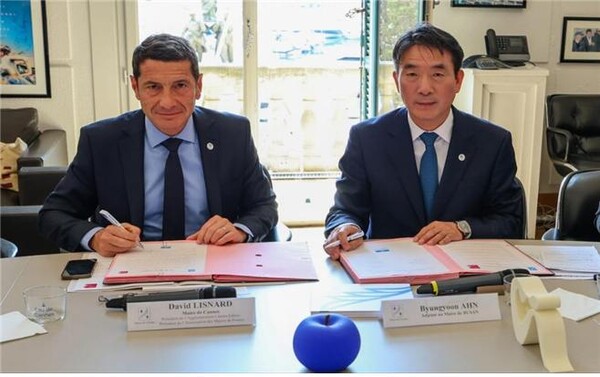 Busan, a UNESCO Creative City of Film and renowned for its international film festivals, has entered into a memorandum of understanding (MOU) with Cannes, France.
The MOU aims to enhance cooperation in the film industry, foster film professionals, and promote mutual exchange and friendship.
Both Busan, the host city of the Busan International Film Festival, and Cannes, the host city of the prestigious Cannes Film Festival, hold the distinction of being UNESCO Film Creative Cities. This collaboration is part of Busan's strategy to adapt to the changing landscape of the video content industry.
The agreement encompasses various areas of film-related activities, including the production of short films and the sharing of official development assistance (ODA) projects. Busan Mayor Ahn Byung-yoon expressed the city's commitment to promoting exchanges in these fields between Cannes and other UNESCO Creative Cities of Film.
Administrative Mayor Ahn emphasized that the agreement strengthens Busan's position as a UNESCO Creative City of Film and paves the way for its role as a leading city in the UNESCO Creative Cities network.
He highlighted the successful partnership between Cannes and Dakar (Senegal) showcased during the UNESCO Creative City of Film Busan Week International Forum and expressed the city's intention to develop international partnerships and share best practices with various countries, in collaboration with Seoul Cinema Center.
The UNESCO Creative City designation recognizes cities that invest in new culture, leverage their unique cultural assets, and foster high-value-added industries.
The UNESCO Creative Cities Network aims to stimulate economic, social, and cultural development through cooperation between member cities.
Both Busan and Cannes actively contribute to this network, utilizing their film industries as catalysts for cultural and economic growth.
더보기